Sex appeal du jour! He is the embodiment of charm and he has occupied a space in the hearts of women around the globe for three decades. Who is "he?" Actor, Leon Robinson of course! But when was it that the masses fell in love with Leon? Was it when he played Robin Givens' boyfriend in the 1989 ABC miniseries The Women of Brewster Place, or when he was cast as Saint Martin de Porres in Madonna's controversial 1989 music video Like a Prayer, or alongside Tom Cruise in 1983 in All the Right Moves, or his 1993 leading role in the film Cool Runnings? Whenever it was, Leon continues to be Hollywood's "go-to" sex symbol to steam up the big screen and tug at the hearts of female moviegoers everywhere.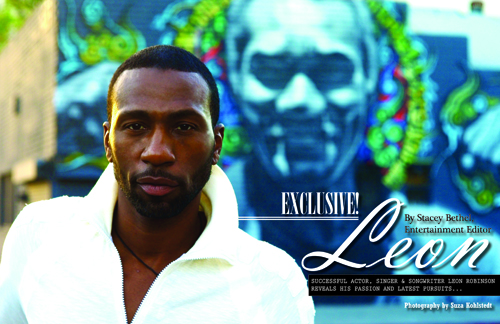 His wit, charm, talent, smile and killer physique has been just some of the reasons why Leon has enjoyed a career in film for 30 years. He has starred in some of the most memorable roles in film, television and stage and has worked with top billing actors. To his credit are Cliffhanger alongside John Lithgow, and Sylvester Stallone, Above the Rim, Waiting to Exhale, Once Upon A Time When We Were Colored, The Temptations, Little Richard, The Five Heartbeats and HBO series Oz.
And while he is known for his acting, Leon surprised his fans when he became lead singer of his own band, Leon and the Peoples in 2005. The band released their debut album, "The Road Less Traveled" in 2006 and in 2007, the band received a nomination for the CD from the International Reggae and World Music Award. Additionally, the band completed a 36 city US tour with reggae singers Beres Hammond and Marcia Griffiths on the "For The Love Of It Tour." He was also a frequent surprise guest on Beres Hammond's 2008 "A Moment in Time" US tour. In 2010, the band performed at the Aids Walk Concert in NYC's Central Park.
With Singing and acting, Leon has so much more ground he would like to cover. And looking at his track record, there is no doubt that he will achieve what he sets out to. But don't take our word for it! Hear it directly from the horse's mouth in an exclusive one on one interview for our magazine.
PJM: You have starred in over 25 movies. Do you have a dream role that you have not yet played?
Leon Robinson: I have several and I'm sure some of them haven't even been thought of yet. I yearn to do memorable roles in memorable movies, TV or stage, that's all!!
PJM: Of all your Movies and TV series, do you have a favorite?
LR: No, cause I hardly ever watch the work that I do. I'm far too critical of myself. My favorite movies or shows are the ones that people like the most cause that is who I act for, you!! If it's your favorite, then it's mine.
PJM: What Actors or Directors would you like to work with that you have never worked with before?
LR: Far too many to list from the US & Overseas. I'm a big fan of the Irish director Jim Sheridan ("My Left Foot" and "In The Name of The Father").
PJM: So many people know you as Leon "the Actor" and not the singer. How did singing come about?
LR: Singing was my first love and while in college I wrote and performed a song for the Special Olympics. As I became more popular as an actor, I would be asked to MC & host concerts and festivals. Many of them Reggae shows because it was known that I was a reggae head. While back stage I would hang out with many of the artists – Beres Hanmmond, Pinchers, Freddie McGregor, Steel Pulse, etc. We would all be singing back stage and they would encourage me to sing. They told me I should do it because I genuinely love it!!
PJM: When and why did you decide to form your band "Leon and the Peoples?"
LR: I was ask to be part of the band with some very talented musician friends called The Young Lions and it was fun but I wanted to do original music not just covers, So I formed my own band called The Peoples. We became Leon & The Peoples when I realized that we would get more and better shows using my name upfront.
PJM: Of all the genres you could have chosen, why Reggae?
LR: Reggae was the first music that made me wanna sing but my band's music is Reggae/Soul Music. We are a blend of Reggae & Soul.
PJM: I know you currently have an album out entitled "The Road Less Traveled. Why that title and when was it released?
LR: For three reasons: 1. I believe I have taken The Road Less Traveled by becoming successful as an actor and then becoming a singer, songwriter and lead singer of a band, 2. We took The Road Less Traveled by becoming a live band (we performed for five years) before recording our first album and 3. I took The Road Less Traveled by becoming a Reggae/Soul artist. I imagine most people would have thought, I would be singing some sexy R&B music. The album was released in 2006.
PJM: Beres Hammond is listed as one of the producers on your album. How was it working and touring with him?
LR: Beres is the top of the line!!! I feel bless to have him as a friend, mentor, and of course, producer. Being in the studio w/ Beres was not easy cause he is so prolifically talented as a writer & vocalist that you have to get over the "awe factor " with him and realize that you are here collaborating with him, not being a fan!! Being on tour with Beres was great!! The shows were packed and the response we got was incredible!! Plus, going to a Beres Hammond concert is one of my favorite things to do in life and when we were on tour I got to do it, every night!!!
PJM: What other producers did you work with on the album?
LR: In addition to Beres, I also worked with JK and Johnny Brit
PJM: What was it like working with Tony Rebel, Tanto Metro and Syleena Johnson?
LR: Tony Rebel is just one of those artist that you hope to work with. He was easy & great! The song "Working Man" was a perfect song to collaborate with him and he killed it!! Syleena Johnson was easy too. Fell in love with her voice years ago and luckily she was available and willing to do our reggae version of "Bottles & Cans." Tanto Metro's energy is amazing!!! I loved working and hanging with him. I originally was planning on doing the song with Anthony B but schedules didn't work out and luckily Tanto's did and now I couldn't imagine anyone else but him. Check him out on our first single "That Emotion."
PJM: What other artists/producers would you like to work with?
LR: I would love to work with many other producers & artist but it's all about the song for me!!
PJM: Inside information tells that you are currently working on a new music project that includes two singles "Dance With Me" produced by Beres and "Love Is A Beautiful Thing."
LR: Love is "A Beautiful Thing" will hit first and we are currently looking for beautiful women (all shapes, sizes, colors) to appear in our video. "Dance for Me" is some sexy reggae music!!
PJM: Are they going to be part of an album?
LR: Originally, they were gonna be singles from our new CD but now the business has changed so much. It makes more sense to release them as singles, in this new digital era we now live in.
PJM: Victor E. Lewis of Vicrae Inc. manages world-renowned reggae ambassadors Third World Band and also your band. What is like working with him?
LR: A true pain in the ass, just joking! Vic is my partner in the band and he understands what I have to go thru navigating my duel careers. He was there at the start of the band and together we will get thru!! Having Third World on his roster is a major plus cause of their talent & worldwide following, plus I'm a big fan!!
PJM: Where can anyone see LEON & THE PEOPLES perform?
LR: Next up for us are some Southern California dates and a live streaming benefit concert with Third World Band at The Roxy in Hollywood. Always check our websites for up coming shows www.leonandthepeoples.net
PJM: In your recent stage play "Why Do Good Girls Like Bad Boys," you play the 'BAD BOY.' How was the experience playing that role?
LR: Great!! He wasn't just a bad boy, I made him a multi-dimensional character – suave, charming, bi-polar, vicious & mean. It was Fun!
PJM: Which do you prefer Stage, Film or Television?
LR: I love them all!! Film and TV (dramas especially), are essentially the same for an actor, same process. Theater is the foundation of acting and where trained actors learn to act. There is nothing like the live response of the theater audience but I feel I was made to be on film. It's all me!!
PJM: What film projects are you currently working?
LR: I have two movies coming out next year. The romantic comedy "Ex-Free" and the drama "Soul Ties" based on a book by Tee Austin.
PJM: With such a rigorous schedule, how do you spend your free time?
LR: What free time?? Luckily, I like my job. I do play as much tennis as I can.
PJM: Other than music and acting, is there anything else you would like to try your hand at?
LR: I'm also a producer and have several projects in the works as well as a director. However being a Dad to my daughter Noelie, may be my favorite job of all!!||PJM||
Source: http://www.panachejamagazine.com