DOVER, Del. – The Delaware Diamond Extravaganza committee has announced that the guest speaker for the Feb. 3, 2012 induction event will be famed actor and singer Leon Robinson.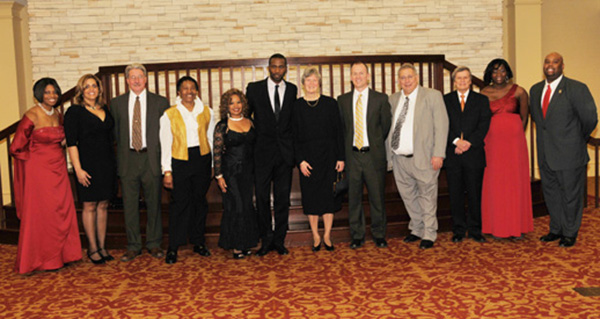 Robinson, who is usually credited as simply "Leon," was born in the Bronx, N.Y. and raised in Mount Vernon, N.Y. He played college basketball at Loyola Marymount University in Los Angeles, Calif. from 1978-79 and currently holds residence in Rehoboth Beach, Del.
As an actor, Leon has starred in over 25 films including Cool Runnings, Above the Rim, Waiting to Exhale, Ali and Get Rich or Die Tryin' amongst others.
Leon received critical acclaim for his portrayal of two legendary singers in made-for-TV movies as David Ruffin the 1998 NBC miniseries The Temptations and Little Richard in the self-titled 2000 NBC movie based on the life of the rock-and-roll pioneer. He has also appeared in various TV series such as HBO's Oz and Showtime's Resurrection Blvd.
In addition to briefly hosting his own late-night talk show, The L-Bow Room, on BET. He is also a professional singer and is the lead vocalist for his own band, Leon and the Peoples. Their debut CD, "The Road Less Traveled" received an International Reggae and World Music Award Nomination.
In addition to a 36-city North American tour with reggae superstars Beres Hammond and Marcia Griffiths, Leon and the Peoples headlined the 25th Annual Aids Walk NYCD Concert in Central Park in 2010. The band has also been featured on BET's very popular 106 & Park and more recently on BET's Centric Network.
Leon has one daughter, Noelle Robinson, with The Real Housewives of Atlanta cast member, Cynthia Bailey.
The Delaware Diamond Extravaganza began in 2009 as a way to recognize, celebrate and honor individuals in the state of Delaware that have helped women's athletics grow and excel in addition to creating additional scholarship and financial support to aid female athletics programs.
The DDE identifies coaches, administrators, athletes and contributors who meet the following criteria:
Over 10 years commitment to women's athletic programs
Activist for Title IX and gender equity o Enhanced life skills knowledge through women's athletics. Former player actively involved with women's athletics within the Delaware community The DDE was founded by DSU Associate Athletic Director and Senior Woman Administrator Candy Young. Committee members are a collaboration of DSU head and assistant coaches from women's sports teams.
This third annual event will be held at the Sheraton Hotel and Conference Center in Dover. A silent, online auction to benefit scholarships will debut in January. Tickets for the Delaware Diamond Extravaganza are $50 per person in advance, $30 for students and $60 at the door. For more information, please contact Renee Arnold at (302) 857-6077 or rarnold@desu.edu or Candy Young at (302) 857-7633 or csanders@desu.edu.